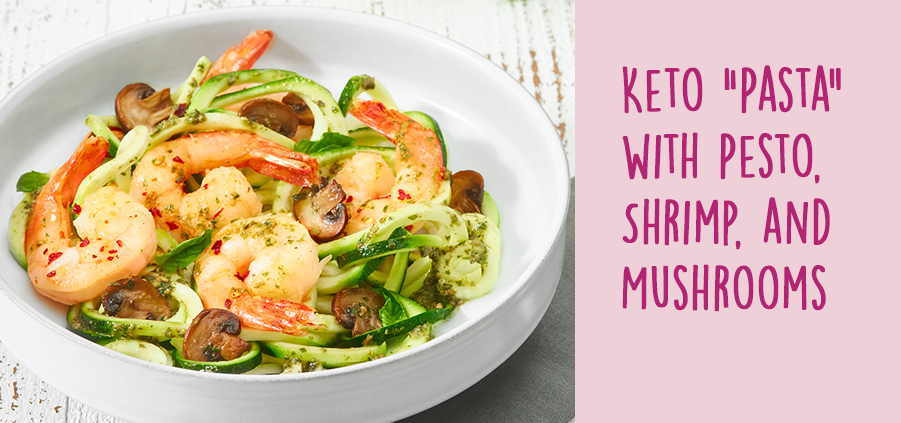 This easy Keto "Pasta" with Pesto, Shrimp, and Mushrooms is a delicious keto dinner or lunch dish.
Ingredients
FOR THE PESTO
• 3/4 cup lightly packed fresh basil leaves
• 1 tbsp chopped macadamia nuts
• 1/2 medium garlic clove, smashed~sea salt
• 1/4 cup extra-virgin olive oil, divided
• 3 tbsp finely grated Parmesan chees
FOR THE "PASTA"
• 3 tbsp olive oil, divided
• 1lb large shrimp, peeled and deveined (tails can be
left on)
• 1 tsp salt, divided
• 1/2 tsp freshly ground pepper
• 1/4 tsp red pepper flakes
• 8oz button mushrooms, sliced
• 4 small zucchinis, spiralized (zoodles)
• 1/4 cup fresh, hand-torn basil leaves, lightly packed
Instructions
Make the pesto: In a food processor or blender, combine the basil, nuts, garlic, 1/8 teaspoon salt, and half of the olive oil. Pulse until smooth. With the machine slowly running, add the remaining olive oil and process until smooth. Add the cheese, then pulse just a few times to incorporate. Set aside.
Make the pasta: In a large skillet over medium-high heat, warm two-thirds of the olive oil. Add the shrimp, half of the salt, and all of the pepper and red pepper flakes and cook, until the shrimp is pink and cooked through, turning once halfway through cooking, 3 to 4 minutes. Remove to a plate and set aside.
Add the remaining olive oil to the skillet. Add the sliced mushrooms and let them sear undisturbed for a few minutes. Stir and continue cooking, stirring occasionally, until the mushrooms release most of their liquid and soften, 3 to 4 minutes. Season with the remaining salt. Reduce the heat to medium, add the cooked shrimp, pesto, spiralized zucchini, and 1 tablespoon of water. Gently mix to combine and heat through, tossing occasionally, about 3 minutes. Remove from the heat.
Transfer the pasta to a platter or divide evenly between dinner plates and garnish with the basil. Serve.