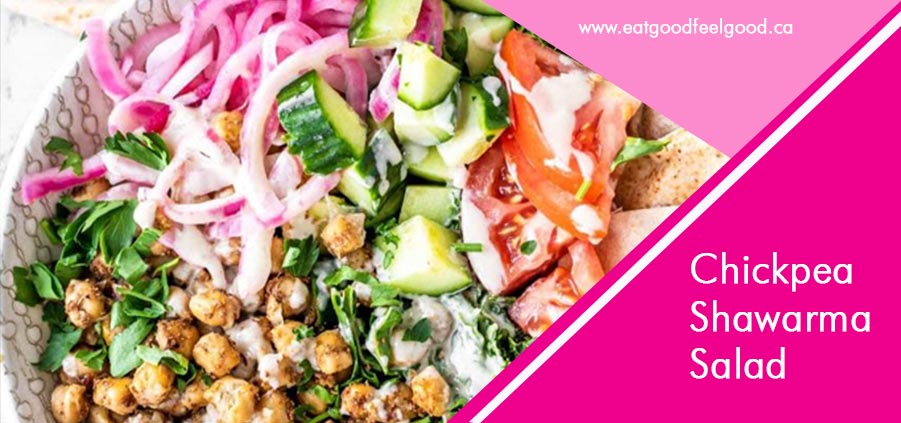 Chickpea Shawarma Salad is jam-packed with flavour and nutrition. Enjoy this as a hearty plant-based meal the whole family will love. This recipe is gluten-free, sugar-free and easily customizable.
Ingredients
For the Shawarma Chickpeas
• 3 cups cooked chickpeas (2 15 oz cans drained and rinsed)
• 2 tbsp olive oil or avocado oil
• 1 tbsp lemon juice
• 1 tsp cumin
• 1/2 tsp each coriander, garlic powder, cardamom, ginger, cinnamon, paprika, salt and pepper
• pinch of cayenne pepper or red pepper flakes if you want it spicy!
For the Salad
• 1 cup chopped kale per serving (plus a little olive oil for massaging)
• 1/4 cup diced cucumber per serving
• 1/4 cup diced tomato per serving
• 1/4 cup finely chopped parsley per serving
• a few tbsp pickled onions per serving (see notes)
• pita for serving, optional
For the Tahini Lemon Sauce
• 5 tbsp tahini (75 g)
• 1/4 cup lemon juice
• 1 tsp garlic powder
• 1 tsp sea salt
• 1 tbsp maple syrup (optional)
• water to adjust consistency
Instructions
1. Prepare the pickled red onion if you haven't already.
2. Massage the kale with 1/2 tsp of olive oil to soften. Set aside.
3. Chop the cucumber, tomato and parsley.
4.Whisk the tahini sauce ingredients together until smooth.
5. Heat the oil in a skillet over medium heat. Add the chickpeas, lemon and spices and heat through, about 5-10 minutes.
6. While they're cooking, divide the kale, chopped veggies and pickled onions between 4 bowls or containers. Divide the chickpeas between each bowl then top each with tahini sauce. Serve with pita and if desired, hummus.