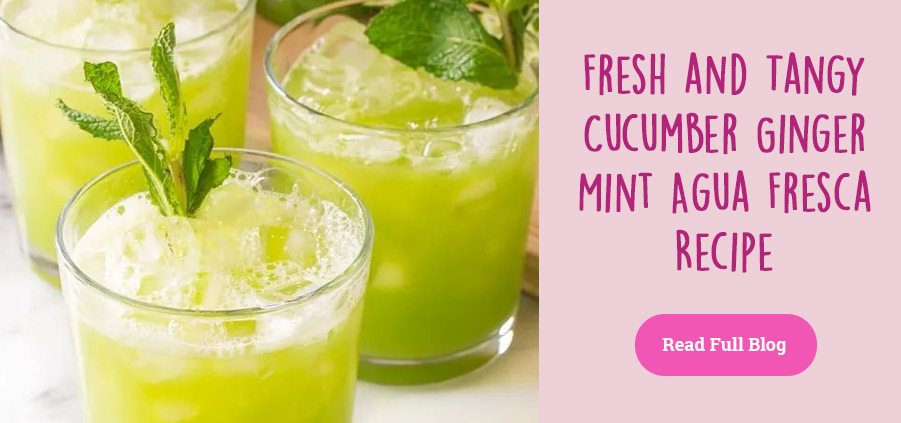 Cucumber Ginger Mint Agua Fresca – Our fresh and tangy agua fresca recipe creates the perfect nonalcoholic summer mocktail!
Prep Time: 5 minutes mins
Total Time: 5 minutes mins
Course: cocktail, DrinksCuisine: Mexican Servings: 6 drinks Calories: 113kcal Author: Sommer Collier
Ingredients
• 2 large English cucumbers cut into chunks
• 1 cup freshly squeezed lime juice (8-10 limes)
• 2/3 cup granulated sugar
• 10-15 fresh mint leaves
• 1 piece fresh ginger (1-2 inches)
• 4 cups water, divided
Instructions
Prepare all the ingredients and place in a blender jar. Add 2 cups water. Cover and blend until the mixture is very smooth.
Place a sieve over a pitcher. Pour the agua fresca through the strainer to remove the pulp. Add the remaining 2 cups water. Cover and chill until ready to serve.
Nutrition
Serving: 1cup | Calories: 113kcal | Carbohydrates: 29g | Protein: 0g | Fat: 0g | Saturated Fat: 0g | Cholesterol: 0mg | Sodium: 12mg | Potassium: 203mg | Fiber: 0g | Sugar: 24g | Vitamin A: 195IU | Vitamin C: 15.4mg | Calcium: 31mg | Iron: 0.4mg